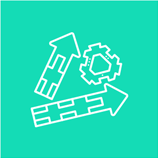 Let's get you started!
All you need to know to get up and running
Common Questions
How was the Empathy Toy designed?

The Empathy Toy is an award-winning blindfolded puzzle game originally designed with the Canadian National Institute for the Blind to bridge the communication gap between visually impaired students and their sighted classmates. It has since been turned into a learning tool designed for students of almost any ability and age from K-12, as well as a facilitation tool for workplaces of every shape and size.

Watch inventor Ilana Ben-Ari's TEDx talk explaining the Empathy Toy's origins.

What ages is the Empathy Toy for?

We recommend the Empathy Toy for ages 6 through 99. The same toy pieces are actually used in Kindergarten classes all the way up to boardrooms. This is quite simply because the pieces and the game are powered by the unique perspective of the players themselves.

What size of group can play the Empathy Toy?

One Empathy Toy set comes with 5 walnut and 5 maple pieces. Our At-Home Sets come with 1 set and are ideal for 3–10 players. Our Teacher's Kits and Facilitator's Kits each come with 2 sets and are ideal for 3–25 players. Note: What increases the group size is actually how many observers are watching the game.

How long does it take to play a game with the Empathy Toy?

In terms of time, we recommend that you set aside about 30 minutes in total for a game session. This will give you enough time to be able to have a little discussion before the game is played, play a game which itself takes between 5 and 15 minutes, and then have a rich debrief discussion about what happened during that game.
Different Editions
Learn more about your specific toy set